The Art – Nature and garden-projects of Aris are often inspired by the classical formal gardens of the Renaissance and early barock. These designs exude rationality and the belief that Man can create his own world. Combining these with transient materials Aris creates a tension that makes for exiting projects.
Since 2014 Aris cooperates with Karola Pezarro under the name AKUNZO.
TADITADATADI
Le Parcours des Fées 2020, Crévoux, France – July 2020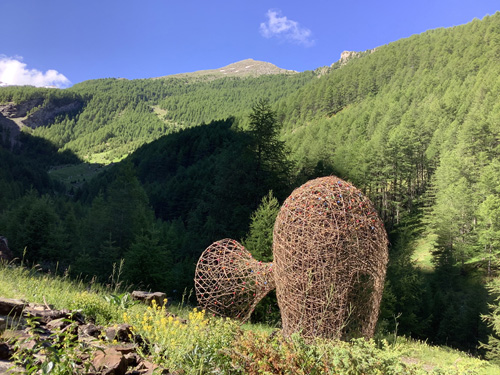 Karola Pezarro and Aris de Bakker ( AKUNZO ) made TADITADATADI for Parcours des Fees in the French Alps. TADITADATADI is inspired by the book Homo Ludens of the Dutch historian Huizinga. His book is an ode to freedom. Only in freedom can play unfold and culture develop. Huizinga assumed that people are 'homo ludens', people who play. From this idea comes the basic thought that everything we call 'culture' comes out of play and also develops in a playful way. When the playing ability comes under pressure, the whole culture is under pressure.
Short video about TADITADATADI.
Une vue de rêve – AKUNZO
Sentiers des Art 2019, Vitrezay – september 2019
Une vue de rêve is situated on the border of the Gironde, France. The visitor can lean against one of the legs of the zeppelin-like shape (built from branches that have been harvested on site) looking at the landscape and the water, simply contemplating.
"Where is my home" – AKUNZO
Taribush Kuna Festival in Drenthe , the Netherlands – July 2019

We made Where is my home for the Taribush Kuna Festival in Drenthe , the Netherlands. It is part of the exhibition 'Present for the Nature'. Untill the 8th of september in Nationaal Park Dwingelderveld, Drenthe.
ECHO OF THE DESERT – AKUNZO
Tankwa Artscape Residency in the Tankwa Desert in South Africa – June 2019

We had the special opportunity to participate in the Tankwa Artscape Residency in the Tankwa Desert in South Africa. It was a wonderful and educational experience for us to work with what a raw landscape has to offer, in order not to disturb the place, but to reinforce the boned poetry of it.
LA GRANDE DAME – AKUNZO
Vign'art – Cuis, Champagne – May 2019

Le caractère puissant, transparent et pétillant du Champagne est l'inspiration de cette œuvre. La base de I 'œuvre se compose d'une construction de fers à béton, ancrés dans le sol. Les branches de noisetier sont tissées dans un ensemble transparent, comme une grande larme de dentelle. Cette structure interne et externe transparente crée une profondeur supplémentaire dans I 'œuvre d'art. Aux extrémités des fers à béton viennent des brosses en fils natureIs. Pour la première fois dans le vignoble de Champagne, on organise un festival d'Art Contemporain et de Land Art. Vign'art se déroulera entre les mois de mai et septembre 2019 sur le versant sud de la Montagne de Reims et sur la Côtes des Blancs.
Take a moment – AKUNZO – Horizons Sancy (June 2018)

Take a moment is an ode to the stream in Entraigues. The work appears as a romantic piece of lace or a canopy suspended above the stream. Karola Pezarro and Aris de Bakker created the installation using branches of hazel gathered near the site. In this land art process, the two Dutch artists wove the elements together on the spot. Here, the artistic creation is perceived through and within the medium of nature. The site of the installation thus becomes the subject and compels environment-friendliness. Take a moment thereby endeavours to express the spirit of the place, prompting ramblers to reflect.
Intersection, AKUNZO , Sentiers d'Art en Condroz-Famenne, België (June 2017)

INTERSECTION consists of four covered passages which come together in a chapellike form right on the crossing of two paths. The installation is made of living willow branches. The hiker will enter the work in order to continue his promenade.
Sentiers d'Art en Condroz-Famenne.
Intersezione Ponte de Lima – AKUNZO , Festival Internacional de Jardines de Ponte de Lima, Portugal (Mei 2017)
De vier elementen, lucht, aarde, vuur en water, zijn de tuin basis, gezien in kunstwerken die de perceptie van de bezoeker te verbeteren – een wandeling door de tuin nodigt iedereen uit om aan te raken, geur, geluid en zicht te ervaren.
Festival Internacional de Jardines de Ponte de Lima
Intersezione della Vita, AKUNZO, Snijpunt, Ameland (November 2016)

L'Art est dans les Bois 2016 – CREATURE OF THE WOODS LOOKING WHERE TO GO (June 2016)
Akunzo (Karola Pezarro and Aris de Bakker) made this work for L'Art est dans les Bois2016 in Pleslin-Trigavou, France. The mirrors on the back of the creature – that is standing on a crossing – are reflecting the light, the trees, the sky and passers-by.
Ou se trouve le petit Chaperon Rouge? – AKUNZO (june 2015)
Des Artistes en Campagne, Savins, France.
With this project we won the Land Art Prize 2015.
Ode to the draft horse – AKUNZO
Een installatie voor Fête de Mai 2015, Gesves, Belgium
Gardens
Jardin des Fous – Den Haag 1996
Fruitgarden – Heemskerk 1996
Frying Shells – Burgh Haamstede 1997
Ice Garden – Halifax, Canada 1997
Pelgrimsgarden, Amersfoort 2004
Saltgarden – Gasunie, Groningen 2009
Frisian Landscape – Ginnum, Friesland 2012